Welcome to 
The Ultimate Blender Academy
, where you will learn 3D fundamentals and become a professional 3D artist! Becoming a good and successful 3d artist is a long way off a dedicated path. However, we want to help you and make that journey painless and more enjoyable for you!
What is Render Craft Academy?
Render Craft- Blender Academy
 is The Ultimate platform for mastering Blender 3d software and starting your journey as a 3D artist. Whether you're a beginner or a more advanced Blender user, our instructors take a practical approach in teaching, which means that they will take you through every step of the course process. 
The courses are 
bite-sized
and project-based
, so you will be applying your new skills immediately and start having your projects included in your portfolio.
For any course that you enroll in, you will:
Be shown
 step-by-step how to build and create
Be challenged 
to
learn and be creative.
Apply and test your knowledge 
with course projects
You will have full access to documents and references that will make your work easier. They will be in every first video of the course, and you will be able to download each of these files. 
You will learn the tools and develop your creative process as you go, and like that, you will start creating your 3D portfolio.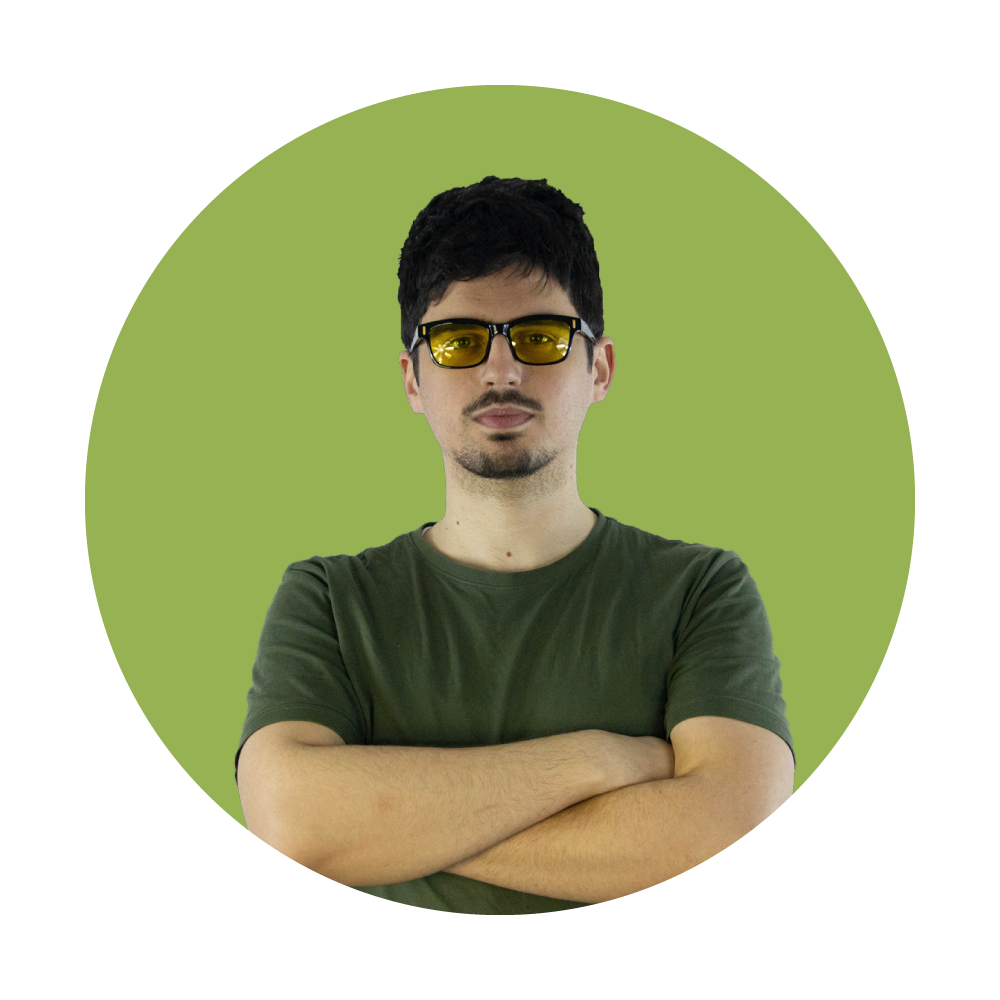 Hi, my name is Dino, a graphic designer and 3D artist. I have a Bachelors's degree from the faculty of Fine Arts department Graphic design. I have done lots of work for a wide variety of businesses over the years.
In 2019. I joined Awesome Tuts (The Ultimate Game Development Academy), becoming a teacher and graphic designer. Together in our academy, we made over 80 courses about game development, graphic design, and 3D art with my colleagues.
I have a passion for art, teaching, and helping students not only learn but have fun while doing so. I've been passionate about art my whole life and look to instill that passion in my students through my teachings.
In addition to teaching, I'm head of design at Cycle (a start-up working on a new app based on the karma point system) and lead animator at NYON Studio, which is creating short 3D movies.
Recently, I got married to Zerina, and together, we are funders of Render Craft Academy.
Hello, my name is Zerina; I am a co-founder of Render Craft Academy, graphic designer, and 3D artist.
Creativity has been an integral part of my life for as long as I can remember. Even as a child, I've been interested in art and computers, so I just followed my passion, and today I do what I love. Also, I have a lot of teachers in my family, even my mother, so I was trying to pick up their skills of teaching all my life. 
I joined Awesome Tuts, where I started as a teacher and graphic designer. So I have a lot of experience when it comes to teaching computer software for design and Computer Graphics. I preferably work in Blender, and the type of work that I do is, sculpting and modeling low and high poly models.
In my courses, you can expect a practical approach in teaching, which means that I will explain all steps on how to do a unique project, and then you will have assignments that you will do at the end of each course.
I would be honored to have the chance to make a difference in your life as well.
If you're going to start learning a new piece of software for a new skill, you'll want to pick the best one. When it comes to 3D graphics, we think you should start learning Blender, and here are several reasons why:


FREE FOREVER - 
you will not pay anything
OPEN SOURCE - 
you can use a Blender to create with it or use its code
EASY TO USE - 
consistent settings across all windows, reorganized menus - to place most used features on top, more visual or appealing tools when you perform desired actions, workspaces for modeling, sculpting, animation, etc. that means just click on one button and that's it!
RUN ON ANY COMPUTER - 
you don't need expensive computers to use Blender, and it supports Windows, Linux, and Mac
DOCUMENTATION - 
even if you are a beginner, you will not fall into the trap of no information. Now documentation contains every single piece of information.
FEATURES - 
Blender is a complete 3d package that supports full features like Modeling, Sculpting, UV, VFX, Rendering, Simulations, Camera tracking, Video Editing, Compositing, Animation & Rigging, full python API support to develop addons, scripts, and much more.
STRONG COMMUNITY - 
blender foundation is dedicated to developing and maintaining the Blender. Apart from the organization, millions of people hold the credit for taking Blender to the heights it has reached today.
Currently, it is the best package out there for many reasons, and we encourage you to try learning it. Just go download it for free at 
www.blender.org 
and try it.
We promise you'll be glad that you did!